The BIRNS Millennium™ 3T is an ultra-high performance, full-size connector, with up to 161 contacts.The BIRNS Millennium 3T was created specifically to push the technological barriers for challenges inherent in transmitting significant amounts of real time data for subsea observatories, towed data acquisition devices, manned submersibles and ROV projects or any user of underwater electro-optical or coax cabling.
The BIRNS Millennium 3T is available with hybrid electro-optical and electro-coax options. This robust series provides distinct competitive advantages over other electro-optical connectors, as it can carry high and low voltages—a single connector can deliver power and control signals and high bandwidth telemetry both to and from a device.
The 3T's electro-coax hybrid segment includes GPS capabilities, as well as flexible solutions for high definition cameras and antennae for military and industrial applications. This elevated level of capabilities and performance does not come at the cost of optical loss, however—the typical loss recorded for a singlemode cable assembly of the series is .1dB, in accordance with ANSI/TIA/EIA-455 for fiber optic insertion loss test procedures. Fiber optic configurations for the Millennium 3T may have different overall dimensions than standard BIRNS Millennium electrical connectors. Contact the BIRNS sales team (service@birns.com) for detailed technical information.
Both the electro-optical and electro-coax hybrid formats of the BIRNS Millennium 3T series can be made with special mounting configurations that can be designed to conform to MIL-C-24217/4-005 specs. This provides a seamless upgrade option for legacy equipment without necessitating costly comprehensive replacements. For creating complete cable assembly systems, all of BIRNS' expert electrical technicians are Certified IPC Specialists per J-STD-001 Class 3, and BIRNS' optical technicians are ETA-I certified.
Part Number • Schematic • Contact/Ferrule Quantity-Size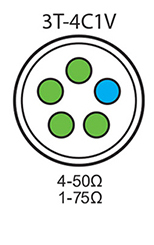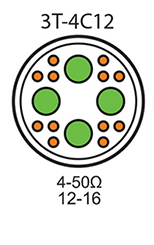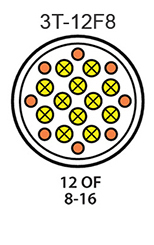 Additional Product Information:
Click on the following document links to view or download: